I have never considered entering a food competition before and, to the best of my knowledge, have never worked in an establishment that would aspire to win any kind of award for their business. I have now!!!!!
The Rogers family have spent years of hard graft building their businesses and take great pride in everything they do. As an outsider looking in I can see they set themselves goals and, as each goal is achieved, set the bar just a little bit higher!
Now that The Old Red Lion seems to be establishing itself as quite a popular and well liked village pub with a reputation for serving good, quality homemade food in a warm, friendly atmosphere it is time for the next goal- To Win Awards!
We were made aware of The Northamptonshire Food & Drink Awards in the form of a letter from Heygates , our local mill, from where we are supplied with all of the flour we use in the pub.
It seems that Heygates are sponsoring 'Artisan Local Product of the Year' within the competition and suggested that it might be a category that we considered entering.
"Artisan" we discovered on research, describes a product handmade by traditional methods.
Vicky & I, to say the least, got a little excited at the prospect of entering this category. With her passion for homemade cakes and mine for pies we knew we wanted to have a go.
The entrance forms were daunting I must say. Lots of writing to describe the product, why it was considered Artisan, where ingredients were sourced from, why it was value for money and proof that it was made locally in Northamptonshire.
But we did it, and the forms are signed, sealed and, hopefully by Monday, will be delivered.
So I guess you now all want to know what our entrance products are?
For Vicky, she decided that her lemon drizzle cake would be best to enter as it sells best out of all her cake range. With flour from Heygates and free range eggs from Radmore farm it certainly is made with local produce and all the beating, whisking, lemon zesting, juicing and baking certainly make it eligible as an "Artisan" product.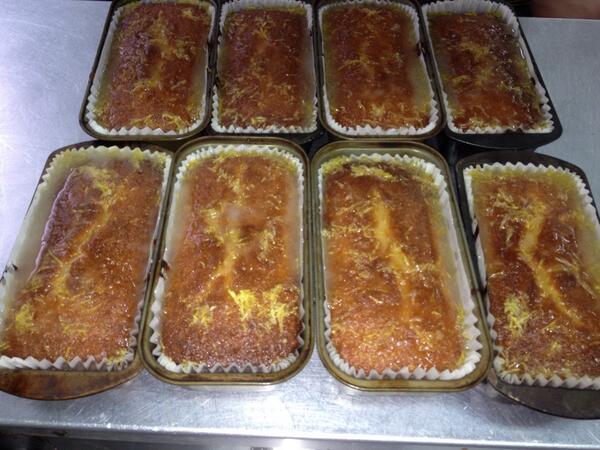 Vicky's Homemade Lemon Drizzle Cake
And for me? Well I chose from the many pies that I make to enter my steak and ale pie with bubble and squeak topping. Made from the best beef from Radmore Farm, flour from Heygates and even potatoes grown on the farm it also is certainly made from local produce and with the braising, rubbing ,rolling, mashing, and chopping I certainly would consider it "Artisan" also!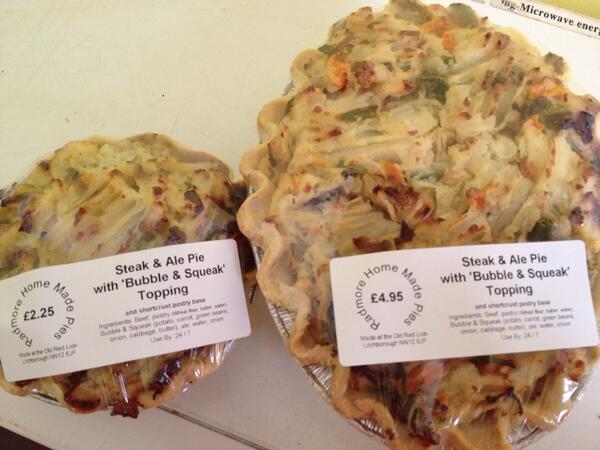 Steak & Ale Pie with 'Bubble &Squeak' Topping
So for now all we can do is wait, with our fingers tightly crossed!!!!!!!
In addition to these entries we have also entered Toby into "Young Chef Of The Year" so best of luck to him and The Old Red Lion is entered into "Food Pub Of The Year". We await our mystery customers to dine with us in the very near future!